Transforming the Valley of Grief by Thomas O. Mason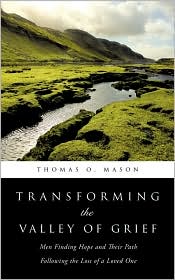 Author:
Tom Mason is a founding member and elder of Evanston Bible Fellowship in Evanston, IL. He has served for many years on the Faculty of Northwestern University in the Department of Materials Science and Engineering. He is well acquainted with "The Valley of Grief," having lost his wife of 31 years, Karen, to cancer. His healing process and suggestions for others who find themselves (or friends) in "The Valley of Grief" are the subject of this book.
My Review:
There are many books out there on grieving, but few specifically meant for men. "Women usually process grief verbally; but men retreat to their caves to grieve in isolation, or at least they are expected to do so."
Transforming the Valley of Grief is a book on grieving for men written by a man. Thomas O. Mason takes you through his own loss of his wife, Karen, to cancer, hoping to help men work through their grief. He interprets his wife's passing to the likes of a personal Tsunami, overwhelming and powerful, trying to drag you under with grief.
However, Thomas takes you through the 'Valley of Achor' (trouble) on through the 'Re-entry' period and 'Up-Valley of Living.' How long that journey lasts is individualistic, but he hopes to share his glimpses of glory and ideas that got him through. What to do to keep yourself busy, yet focused. Not allowing any days to linger on indefinitely in grief with nothing to occupy your time. Friendships, especially an accountability partner, to get you through and keep you on target. He deals with topics of Staying Afloat, Doing the Work, Flash Floods, A Door of Hope, and Re-entry in life again.
As a woman, I found this to be a very insightful book on the process of grief for men. Definitely a good book for a man you know going through the death of a spouse.
This book was provided to me by Audra of B & B Media Group, Inc., for my reviewal. I review books to offer insights to great books, whether fiction or nonfiction, for your pleasure and growth. My thanks to Audra and B & B Media Group.
This book may be purchased here.